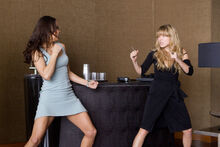 Sabine Moreau was a character and the tertiary antagonist in Mission: Impossible – Ghost Protocol. Sabine Moreau was played by Léa Seydoux.
Background
Edit
Sabine is a French assassin for hire, who works for diamonds as her payment. Sabine was known to be affiliated with Kurt Hendricks, as she has apparently worked for him in the past, but it can be assumed that the two never met face-to-face prior to their arrangement at the Burj Khalifa, as Hendricks posing as Wistrom did not notice that IMF agent Jane Carter had in fact replaced Sabine.
Sabine is responsible for the death of IMF agent Trevor Hanaway, in which she acquired the nuclear launch codes intended for Cobalt. She would later resurface in connection with nuclear strategist Kurt Hendricks. Sabine then would arrange a deal with Wistrom, Hendricks' right-hand man, in which they would exchange the launch codes for prized diamonds. The IMF orchestrated a plan to steal the nuclear bomb launch codes in Sabine's possession. After their cover was blown, Moreau found herself in a fistfight with IMF agent Jane Carter. During the fistfight, Carter was knocked to the ground but kicked Sabine out of the window letting her fall over one thousand feet.
Personality
Edit
Sabine was depicted as being highly intelligent, arrogant and beautiful. She was extremely ruthless, and isn't capable of any sort of emotional connection with her victims. She was a woman of few words, somewhat overcautious about who she makes contact with. Additionally, she was enigmatic and cruel.
Skills and Abilities
Edit
Sabine was adept at hand-to-hand combat. This was shown when she holds her own against Jane Carter for a considerable amount of time. She was also a highly skilled markswoman, as she carries a Beretta sub-compact automatic pistol as her weapon of choice, using it to kill agent Hanaway.
Ad blocker interference detected!
Wikia is a free-to-use site that makes money from advertising. We have a modified experience for viewers using ad blockers

Wikia is not accessible if you've made further modifications. Remove the custom ad blocker rule(s) and the page will load as expected.