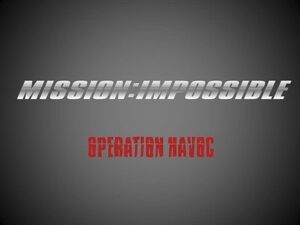 The story begins with Jack Hudson, a member of the IMFA, on the run from unknown terrorists. Jack makes his way across the bridge over the highway and finds a phone dropped by one of his pursuers. He finds something on the phone and quickly writes it onto his hand. Jack almost escapes just before he is sniped from the distance and instantly killed. The word Havoc is seen left on his hand.
Six months later, IMFA captain, Kyle Williams and his second in command, Richtor Solus, investigate a warehouse to find clues as to what Havoc is. During the six months, Kyle has been determined to discover who killed Jack and what Havoc means. Kyle's team, including Richtor, James and Ben, continue to investigate the Havoc operation. The investigation leads Kyle to believe that Australian Crime Lord, John Valeri is behind Havoc and Jack's death.
James deciphers a message online to a location where an exchange is being made. Kyle and Richtor investigate and discover a USB at the location.
After analysing it, James discovers the USB has the file Havoc in it and initially discovers that Havoc is a computer virus that closes down Naval and government defences and opens up Australia to attack. Ben begins to worry about RIchtor as he is hardly ever seen around the base. After confirming that Valeri is behind the virus and the death of Jack, Kyle and Richtor are ordered to take out Valeri.
At the location, Kyle is hesitant to take the shot on Valeri, but pursuasion from Richtor, Kyle takes the shot and kills Valeri.
Back at the base, the four members celebrate the end of the mission and mourn Jack's death. Richtor then shoots Ben, killing him, and James. Kyle, upstairs, hides for cover but is caught at gun point by Richtor. Richtor then reveals himself to be John Valeri and that all this time it has been him trying to get the Havoc virus. Kyle then gets into a physical fight with Richtor but is unsuccessful in defeating him. Richtor aims at Kyle, who is saved at the last minute by James who was only wounded by Richtor's gun shot, and shoots Richtor to save Kyle. Kyle and James awake the next day and mourn over the death of so many friends, including Richtor. Kyle states that he won't go to Richtor's funeral because he wants to remember him as a friend and not a foe.
A figure is then seen walking in the park. He stops and sits on the seat. He looks up, revealing himself to be Richtor who is alive and well after his encounter with Kyle and James. He then gets up and walks off into the distance, waiting fro the right time to reveal himself.
Cast
Rhys Cropper as Kyle Williams
Daniel Isaac as Richtor Solus
Jordon Lane as James
Kyle Cropper as Ben Hamil
James Burnell as Jack Hudson
Development
Edit
The fan film was filmed during the first week of July 2012 with a week's schedule to finish the production.
The screenplay was written by Daniel Isaac and based off ideas by Rhys Cropper.
The film, after completetion, began editing by Daniel Isaac the following week. Editing was completed within the week with a runtime of 28:30 minutes
Reception
Edit
Critical Reception for the fan film was positive with viewers calling it "An amazing thrill ride" The film received comments about the perfect realist acting from Rhys Cropper and Daniel Isaac. Others also commented on the storyline praising it for its difference from the Mission: Impossible films, calling it a case like the television series rather than an impossible mission like the feature films. Rhain Radford Burns gave the film a 9/10 stating that it "was very well done, brilliant acting." Viewers then began to praise the film for it's setup for a sequel and possible future sequels with the reveal that RIchtor was still alive.
Daniel Isaac and Rhys Cropper confirmed at the release of Operation Havoc that it was the first in a planned trilogy of fan films. Daniel Isaac stated, "We are not done with the Havoc story, the series is titled The Havoc Trilogy, not just Operation Havoc, there is definately going to be three films in total." The sequel to Operation Havoc was confirmed a day after release with the confirmed title "Operation Sandstorm". The title follows the use of the word Operation with another word relating to the plot of the film.
The third film was also confirmed at the same time as the second. "We knew it was going to be a trilogy, three films, one big story, each with a different genre, Havoc is the starting case and an action drama, Sandstorm is going more investigation drama, with more backstory revealed and a case to follow, the third film will be an action packed thriller, confirmed longer than the first two." says Daniel. There was no confirmed title for the third film until late 2012 where Daniel confirmed his script for the third film to be titled "Operation Flashfire"
Possible future sequels have been hinted at by both Daniel Isaac and Rhys Cropper. "I would love to do more" says Daniel, "Maybe another trilogy after The Havoc Trilogy, maybe a prequel to Operation Havoc, who knows, all we know is that we do have ideas for a fourth, fifth and sixth film for after 2014, it's not a yes, it's an idea that is on the table right now."
Operation Sandstorm was released in mid 2013, with Operation Flashfire releasing in February 2015. Asked again about the possibility of future sequels, Daniel stated "We had quite a few problems with Flashfire, originally it was to be filmed in June 2014 for a December release, however that was pushed back and filming was done in December of the same year. By the time it came to filming Flashfire, Rhys and I were buggered, we were sick of the characters and story and didn't feel like filming it. Of course in the end we forced ourselves to shoot the film over the course of 2 weeks, but by the end we decided we were done with this series. Sure we could do more sequels, and I have no doubt we could come up with good stories, but we're done, we are not coming back. It's a trilogy, it will stay a trilogy."
Ad blocker interference detected!
Wikia is a free-to-use site that makes money from advertising. We have a modified experience for viewers using ad blockers

Wikia is not accessible if you've made further modifications. Remove the custom ad blocker rule(s) and the page will load as expected.