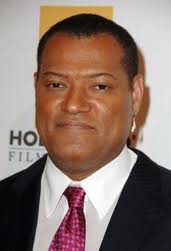 Laurence Fishburne
(b. 1961) plays
IMF
director
Theodore Brassel
in
Mission: Impossible III
.
Fishburne is an American actor who has appeared in movies such as Apocalypse Now, School Daze, Red Heat, King of New York, Cadence, Class Action, Boyz n the Hood, Deep Cover, What's Love Got to Do with It, Searching for Bobby Fischer, Just Cause, Othello, Event Horizon, Hoodlum, The Matrix, Osmosis Jones (for voice), The Matrix Reloaded, Mystic River, The Matrix Revolutions, Assault on Precinct 13, Akeelah and the Bee, Five Fingers, TMNT (for voice), Fantastic Four: Rise of the Silver Surfer (voice-over), The Death and Life of Bobby Z and most recently 21. He has also appeared in episodes of "Pee-wee's Playhouse" playing Cowboy Curtis.
External links
Edit
Ad blocker interference detected!
Wikia is a free-to-use site that makes money from advertising. We have a modified experience for viewers using ad blockers

Wikia is not accessible if you've made further modifications. Remove the custom ad blocker rule(s) and the page will load as expected.