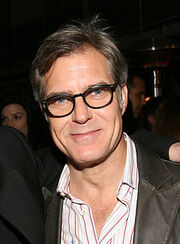 Henry Czerny
(b. 1959) plays
Eugene Kittridge
in
Mission: Impossible
.
Czerny is a Canadian actor who has appeared in movies such as The Boys of St. Vincent, The Boys of St. Vincent: 15 Years Later, Clear and Present Danger, When Night Is Falling, Jenipapo, Notes from Underground, The Ice Storm, Kayla, Chaos, The Pink Panther, and Conversations with God. He has also appeared in episodes of Three Moons Over Milford and The Tudors.
External links
Edit
Ad blocker interference detected!
Wikia is a free-to-use site that makes money from advertising. We have a modified experience for viewers using ad blockers

Wikia is not accessible if you've made further modifications. Remove the custom ad blocker rule(s) and the page will load as expected.