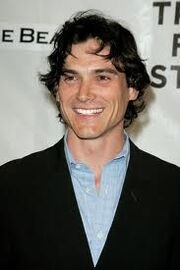 Billy Crudup
(b. 1968) plays
John Musgrave
in
Mission: Impossible III
.
Crudup is an American actor who has appeared in movies such as Sleepers, Inventing the Abbotts, Grind, The Hi-Lo Country, Jesus' Son, Waking the Dead, Almost Famous, World Traveler, Big Fish, Stage Beauty, The Good Shepherd, Dedication and most recently know for playing Dr. Manhattan in Watchmen.
External links
Edit
Ad blocker interference detected!
Wikia is a free-to-use site that makes money from advertising. We have a modified experience for viewers using ad blockers

Wikia is not accessible if you've made further modifications. Remove the custom ad blocker rule(s) and the page will load as expected.